2 x B&D TB5/BD4 TRITRAN GARAGE REMOTES - 062731 - upgraded as TB-7 RED & BLACK
Free Shipping Australia Wide
Listing Includes:
2 x B&D TB-5 Remote will be supplied with TB7
1 x Programming Instructions
Warranty:
Description:
B&D's Tri-Tran multi frequency technology, means your opener will never have interference from household wireless products including baby monitors, door bells and some in home and in car wireless entertainment systems or other electronic devices. So when you want
your garage door to open, it will.
Most current garage door openers operate on a single 433MHz frequency with a wide reception bandwidth. Unfortunately many other household products also operate on the same frequency. Every day items like baby monitors, door bells and some domestic and in car wireless entertainment systems. And they don't have to be in your home. They can be in your neighbors. If one of these items is being used in your area, or is malfunctioning,
it has the potential to interfere with the operation of your garage door opener. You will push the button on your opener transmitter, and nothing will happen. This can be very frustrating, when you need your door to open/close, and it won't.
To overcome this problem, which while localised is on the increase, all new B&D Controll-A-Door openers now feature unique Tri-Tran multi frequency operation. Tri-Tran has an automatic frequency change function, with each of its three frequencies transmitted having a much tighter bandwidth. The frequency changes every 22mS during a transmission and reception. So if there is another signal interfering on a part of this frequency spectrum, the automatic change ensures the signal still reaches the opener. This makes Tri-Tran up to one thousand times better, in terms of in band interference rejection, than a typical FM receiver, and up to a million

times better than some AM receivers.
To ensure your garage door opener works when you need it to, insist on an opener with Tri-Tran. The world's first multi-frequency garage door

opener technology.
Compatibility:
(Please note that (TB-5) transmitters are not forward compatible with (TB5v2 or TB6 transmitters)
Will Not work with older motors which still use the SecuraCode 433MHz or old 27Mhz TX Remotes without the use of new receiver cards comming soon
Sectional Door Openers
B&D Tri-Tran openers only
B&D Controll-A-Door P Diamond
B&D Controll-A-Door P Diamond Whisper Quite
Rolling Door Openers
B&D Controll-A-Door Diamond Power Drive
(BDTB5x2)
| | |
| --- | --- |
| SKU | BDTB5x2 |
| Unit Of Measure | ea |
Be The First To Review This Product!
Help other Automatic Doors Australia users shop smarter by writing reviews for products you have purchased.
Others Also Bought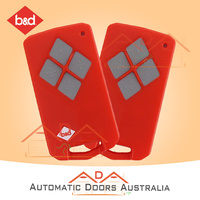 B&D 2 x TB5v2 Tri Tran Enclosure Only // Remote Ca
$40.00
More From This Category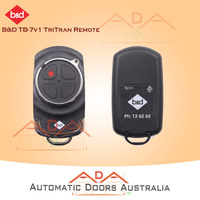 B&D TB7v1 – Black Garage Door Remote
$79.00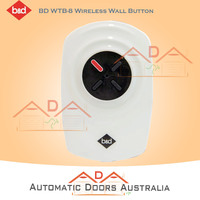 B&D WTB-8 – Wall Button Garage Door Remote
$50.00