Free Shipping Australia Wide
Listing Includes:
1 x EAT-2v2 Easy Access Transmitter
Warranty:
NOW WITH 7-YEAR/20,000 CYCLE WARRANTY
Description:
ATA's new flagship rolling door opener, the GDO-6 EasyRoller

®

now features their Series 2 upgrades. Designed to deliver a slim profile, reliability, security and convenience, it is compatible with our Smart Phone Control Kit and Wireless Safety Beams.

The Series 2 EasyRoller

®

takes forward the impressive reputation earned by this series of openers over the past decade. This version incorporates bright LED courtesy lighting and compatibility with Wireless Safety Beams. The Service Indicator lets you know when it is time to service your door. This is in addition to TrioCode

™

128 transmitters, Soft Start/Soft Stop operation, advanced door profiling and obstruction sensing for secure and safe operation.
Features:
TrioCodeTM Code Hopping Technology
Every time a TrioCodeTM transmitter is used, a new security code is randomly generated from over 4.29 billion possibilities. This greatly enhances the security of the system and makes "code grabbing" a thing of the past.
These transmitters also overcome interference issues by simultaneously sending a signal over three slightly different frequencies. Even if two of the three signals are jammed, the system will still work.
ALPS (Automatic Limits Positioning System)
ALPS does away with manual adjustment of the door's limits position using mechanical parts, such as cams and microswitches. During installation the handheld transmitter can be programmed to set the door limits positions.
ISS (intelligent safety obstruction system)
While the door is performing a close cycle, should it hit an obstacle or be restricted in some manner, it
will automatically reverse. The amount of force the door should encounter before reversing is automatically adjusted by the doors control system during the initial installation of the automatic door opener. The door will also stop if restricted whilst opening. The Safety Obstruction Force should be checked monthly.
The courtesy light comes on automatically for three minutes whenever the door is activated. The light can also be operated independently of the door by coding a dedicated button on a transmitter.
SmartSolarTM and Battery Backup Compatibility (optional)
The opener can be fitted with a SmartSolarTM or Battery Backup kit for operation in the event of a power outage, or where mains power access is not available.

NOTE:

If the door is the only entrance to the garage, and a battery backup kit is not fitted,
a keyed cable release should be fitted externally to the garage.
A handheld transmitter can be programmed to lock and unlock all other transmitters that have been programmed into the openers' memory. The vacation
mode can be used when the door is left idle for long periods of time.
The transmitter can be programmed to open the door to an adjustable partial height so that the family pet can enter and exit the garage at any time. You may also wish to
open the door to a height suitable for pedestrian access.
The opener can be programmed to automatically close after an open cycle. The Auto-Close time is adjustable. It is compulsory to install a PE Beam if this mode is selected, otherwise the
door may cause personal injury or damage to property.
Photo Electric (PE) Beam (optional)
The opener has an input to connect a PE Beam for extra safety and use of the Auto-Close mode.
The opener is equipped with a unique manual disengaging device. If the power to the opener is disrupted, the door can be put into manual mode by pulling down on the string handle on an angle towards the door. This allows for manual operation of the door. To re-engage the opener, pull the string handle away from the door.
Inside the manual release handle is a transmitter designed to be in easy reach so that the garage door can be operated without having to stretch to reach the operate button on the control panel.
Specifications:
Technical Specifications
Power supply 230V - 240V A.C. 50Hz

Motor type 24VD.C. Permanent Magnet

Controller Voltage 24VD.C.

Maximum door weight 110kg

Typical travel speed 130mm/sec

Opener Limits Travel 3.0 turns of Door Drum Wheel

Receiver type TrioCodeTM type

Receiver code storage capacity 64 X 4 button Transmitter Codes

Transmitter frequency TrioCodeTM type

Number of code combinations Over 4.29 billion random codes

Code generation Non-linear encryption algorithm

Courtesy light LED (Light Emitting Diodes)

Controller fuse 10A slow blow

Network connectivity Network compatible, (requires

optional Smart Phone Control Kit)
(ATAGDO6v4)
| | |
| --- | --- |
| SKU | ATAGDO6v4 |
| Brand | ATA Automatic Technology Australia |
| Shipping Weight | 9.5000kg |
| Shipping Width | 0.330m |
| Shipping Height | 0.250m |
| Shipping Length | 0.400m |
| Unit Of Measure | ea |
Be The First To Review This Product!
Help other Automatic Doors Australia users shop smarter by writing reviews for products you have purchased.
Others Also Bought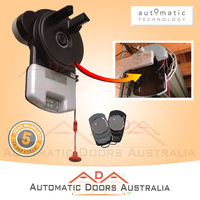 ATA GDO6v3 EASYROLLER AUTOMATIC GARAGE ROLLER DOOR
$429.00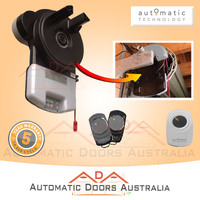 ATA GDO6v3 Easy Roller Garage Roller Door Opener
$430.00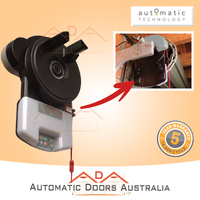 $380.00
More From This Category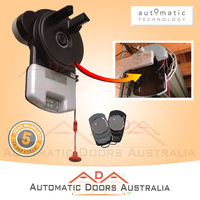 ATA GDO6v3 EASYROLLER AUTOMATIC GARAGE ROLLER DOOR
$429.00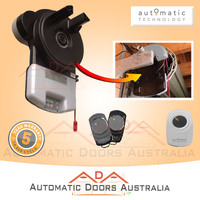 ATA GDO6v3 Easy Roller Garage Roller Door Opener
$430.00