Elsema PCK43302 PentaCODE Blue Two Button Remote Control
Free Delivery within Australia only
Includes
Elsema PentaCODE PCK43302 Remote

A23 12v Lithium Battery
Warranty - 01 year manufacturer's warranty
Description
PentaCODE Series
The Next Generation of Wireless Key Fob Remote Controls, Superior to Rolling Code Remotes
The PentaCODE® dual coding system gives the installer the option to use the classic 12-way dip switch coding or one of over 17 billion encrypted codes.
The PCK43302 remote control has two buttons, which will allow you to code this remote control to two door or gate openers. The PentaCode remote controls have a dual coding ability, which gives you the option to use either the classic 12 way dip switch coding or one of over 17 billion encrypted codes via a 'Rolling Code'. The PentaCode series of remote controls are available in 2 or 4 button configurations. The keyring retainer is moulded as part of the chassis using reinforced nylon, making this one of the sturdiest remote controls on the market.
If you want to use the dipswitch encoding method, simply match the PentaCode remotes dipswitches to the receivers dipswitches and the remote control will be ready for use.
If you want to use the rolling code method, you switch all of the dipswitches in the rear of the remote control to off. The remote control can then be programmed into the Elsema receiver, enabling your high security remote control to operate the receiver.
The PentaCODE® series is an extremely versatile remote control that can be customized through a range of configurations and colors to suit your needs.
Features
Keyring transmitter with 2 or 4 channels

Dual Coding System, 12-way dip switch coding or one of over 17 billion encrypted codes

Simultaneously transmits the code on 5 different frequencies, making it impossible for the remote to be interfered with or jammed

Operating range of up to 200 metres depending on building structure and receiver antenna

Custom print available for front labels.

Designed in Australia and competitive pricing

AS/NZS 4268, CE and FCC Certified
Programming Instructions
Check that all switches are "OFF" on the receivers 12-way dip switch

Press and hold the program button on the receiver

Press the remote button for 2 seconds, receiver LED will flash and then turn Green

Release the button on the receiver and the remote

Press remote control button to test the receiver output
https://youtu.be/noQXsG4ARf8
https://www.ada-aust.com/assets/files/pckseries.pdf
https://www.ada-aust.com/assets/files/PentacodeProgramming.pdf
Compatibility
The Elsema PentaCode remote controls are designed to with PentaCode and PentaFox remote controls and their associated receivers.

Compatible Elsema PentaCODE Receivers
Penta Series 433MHz Receivers
Elsema has once again revolutionised the wireless, automatic gate and door industry. With our next generation of Penta series that use dual coding, frequency hopping, antenna diversity and customisable features, these receivers are superior to rolling code receivers and remotes.
Penta originated from the 5 sides of a Pentagon. The 5 sides representing each frequency the receiver operates on. Most receivers operate on a single frequency, we wanted to be the first in the world to operate a receiver with Key Fob remotes on 5 different frequencies giving it a high level of security and immunity to interference.
Combine these receivers and Key Fobs with our intelligent automatic gate and door motor kits, installation and operating an automatic gate and door has never been easier.
Penta series Receiver Selection Table
Elsema PCR43301RE
Elsema PCR43301240R
Elsema PCR43302R
Elsema PCR43302240R
Elsema PCR43304R
Elsema PCR43305R
Elsema PCR433WG
Elsema PCR43302P
Elsema PCR43301240RE
Elsema PCR43302RE
Elsema PCR43302240RE
Elsema PCR43304RE
Elsema PCR43305RE
Elsema PCTR433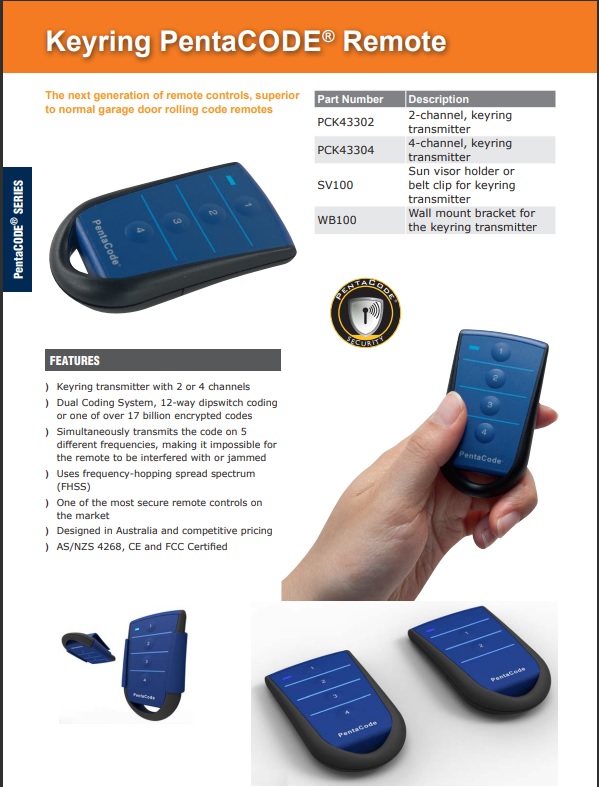 (PCK43302)
| | |
| --- | --- |
| SKU | PCK43302 |
| Brand | Elsema |
| Shipping Weight | 0.0150kg |
| Shipping Width | 0.090m |
| Shipping Height | 0.030m |
| Shipping Length | 0.110m |
| Shipping Cubic | 0.000297000m3 |
Be The First To Review This Product!
Help other Automatic Doors Australia users shop smarter by writing reviews for products you have purchased.
More From This Category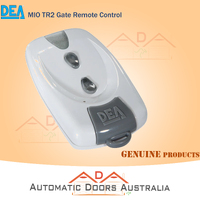 DEA MIO TR2 Gate Remote Control
$59.00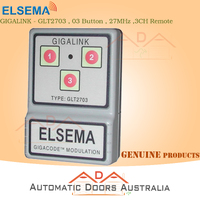 ELSEMA_ GLT2703 GIGALINK_ (3 CHANNEL/03BUTTON) REM
$169.00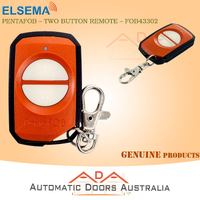 Elsema FOB43302_ORANGE PentaFOB - Two Button Remo
$40.00